Myofunctionals products for children and adults
Face Former is a patented training device for Face Former therapy. The material has been approved for medical use; allergic reactions to the material are extremely rare. Face Former training is a cause-oriented, neurophysiological treatment concept. The training includes exercises for of muscles and for the functional adjustemt and correction as well as for the activation of brain nerve functions.
There is a training program for strengthen facial and oral muscles and swallowing. Swallowing pattern can be affected by incorrect tongue posotion and mouth breathing.
With Face Former there is also a possibility to carry out passive training. By using Face Former passively during day time or during your sleep on night time you can support nose breathing and correct positions.
By fixing your mouth area's incorrect postures, it can help reduce night time scrunching.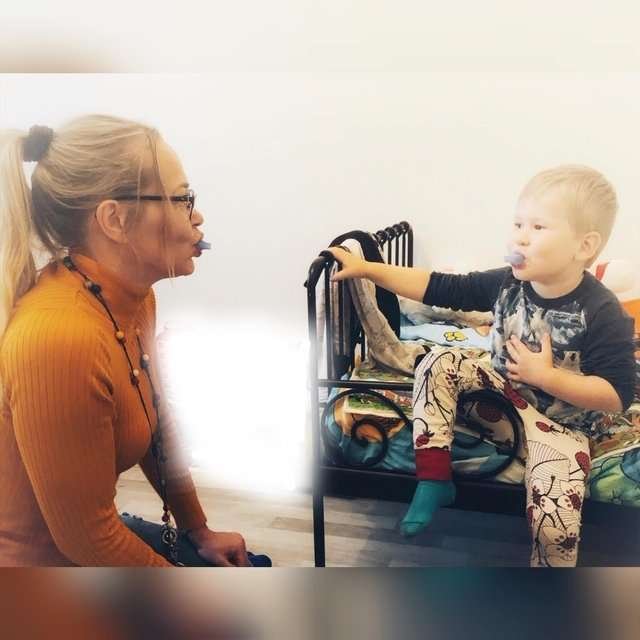 Face Former can be used by both adults and children (from the age 2-3).
We recommend the evaluation or consultation by SLP or other specialist when starting practising with Face Former, especially with children. If you are under the treatment of doctor, for example diagnosed with Sleep Apnea, is very important to follow your doctors treatment. You can reach Pro Lingua's SLP by using email: info@prolingua.fi
Face Former therapy and training is one way to implement myofunctional therapy. The goal of the Face Former therapy is to change respiratory patterns, to train the breathing muscles, to promote mouth closure when sleeping, to stop mouth breathing and to achieve a sufficient tension of muscles and mucous membranes in the mouth, nose and throat. It can be effective at reducing for example snoring and night time grinding. Face Former can be effective at reducing for example snoring and night time grinding. The goal is to change incorrect breathing and swallowing habits, strengthen facial and oral muscles (lips, tongue, cheeks) and nose functions with active training and also during a sleep. If you are diagnosed with Slep Apnea, it is very important ito follow your doctors treatment. If you or your partner suspects that you have sleep apnea, contact your primary care doctor.
We do recommend SLP´s or Myofunctional Therapists evaluation of oral motor functions to support the therapy. Consultation and a minor evaluation can be done by distance/on-line appointment.
Face Former -training includes active daily training and night time passive training. Passive training provides several hours muscle activation and same time it strenghtens nose breathing and quality of sleeping.