Licensed speech therapist, SLP Mira Starck, Pro Lingua Ltd.
Gratuated with Master´s degree in speech-languege pathology from University of Helsinki 2006.
I am specialized in childrens oral and verbal motor disorders. I am also providing myofunctional therapy. Also I am specialized in Selective Mutism. I have been working as a private therapist, SLP for 13 years. I am continially participating for additional trainings. I have training on OPT (Oral Placement Therapy), Myofunctional therapy and Selective Mutism. Addition to oral and verbal motor disorders, I am interested in childhood emotional development, anxiety and especially in selective mutism.
I am a mother of three children and disorders of speech and language are familiar to me also as a mother. I know how important it it to find a professional, specialized -and emphatic therapist for your child.
Using my therapy experience I have designed learning games for children.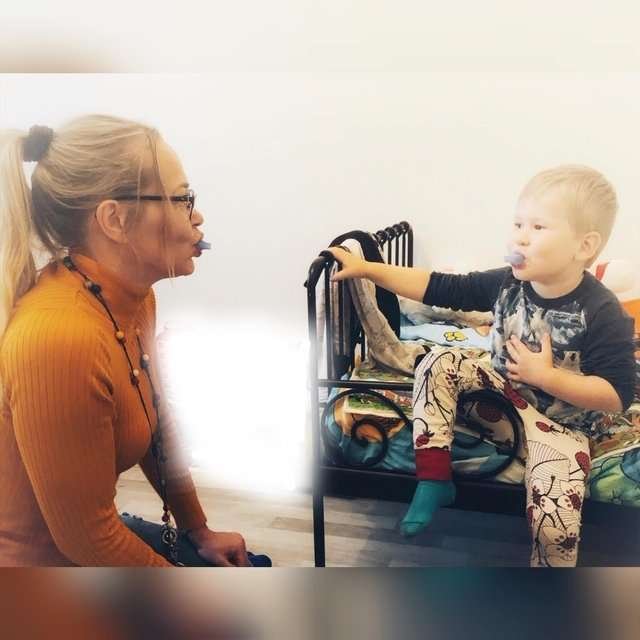 Additional training concerning oral and verbal motor disorders:

OPINNÄYTETYÖ (pdf)
NOT-kartoituksen käyttö (Nordic Orofacial Tes-Screening) (Pamela Åsten) Helsinki 2008
Dyspraksia-koulutuspäivät, Helsinki 1-2.10.2009 (Suomen Orofakiaalisen terapian yhdistys)
Oraalimotoriikan, verbaalimotoriikan ja nielemisen kuntoutus, täydennyskoulutus, Hämeenlinna 19-20.5.2011 (Puheterapeuttien Kustannus Oy ja Suomen Puheterapeuttiliitto ry)
OPT 1 (Oral-Motor Therapy) Göteborg, 19-20.10.2011 (Renee Roy Hill, MS, CCC-SLP)
OPT 2 (Oral Placement Speech Disorders) Helsinki 23-24.1.2013 (Renee Roy Hill, MS, CCC-SLP)
Lasten äänteellisten pulmien kuntoutus -seminaari, Espoo 19.11.2015 (Tuula.Savinainen-Makkonen, FT & Annukka Kuutsa, FM)
Myofunktionaalinen terapia (Dr.Klaus Berndsen), Vantaa 19-21.1.2017
Introduction to Orofacial Myofunctional Therapy, Tallinna 26-29.8.2017 (Academy of Orofacial Myofunctional Therapy)
Manuaalisten hoito-otteiden hyödyntäminen osana kasvojen ja suunalueen logopedista kuntoutusta, Voice Well-koulutus, Kirsti Leppänen, Tampere 28-29.9.2018
Buteyko Clinic training for healthcare professionals. Patrick MaKeown, Buteyko Clinic International. Tampere 8-10.2.2019
Additional training concerning childrens neuropsychiatric rehabilitiaton:
Neuropsykiatria nyt. Kehityksellinen neuropsykiatria lapsuudesta aikuisuuteen, Helsinki 14-15.9.2017 (Proneuron)
Working with Selective Mutism (Maggie Johnson) Helsinki HYKS Lastenpsykiatria
Selective Mutism Through the Ages, From Tots to Teens and Adults (Webinar Workshop) 13.11.2018 Dr.Elisa Shipon-Blum, Selective Mutism, Anxiety & Related Disorders Treatment Center (SMart Center)
Neuropsykiatria, teemapäivä: Sosiaalisten taitojen ja kommunikaation kuntoutus, Helsinki 16.11.2018 Proneuron
Additional training concerning AAC:
Pecs
Kommunikaatiokansion käyttö
Suomalaisen viittomakielen perusopinnot (Jyväskylän avoin yliopisto; Kuurojen kansanopisto) v.2009
Tukiviittomien täydennyskoulutus (Sanamaailma Oy) Vantaa 2009